New book: 'Discovering a Larger God'
Raised in Christian Science, I experienced a crisis in my thirties when it became clear Mrs. Eddy's God was not big enough for the desperation engulfing me.  Her deity was too small to look upon my ugly sinfulness and love me anyway.
He (or "it," if one believes God is summed up in seven abstract synonyms) was too small to become incarnate among us as Jesus, taking on flesh through Mary and laying down his life under Pilate, and rising again in glory after atoning for all our sins.
I needed a larger God, and I found him right in the pages of the Bible, with no need for the CS textbook or any other key. That was in the 1990s.
Some fifty essays on lessons I've learned since then are collected in my new book, Discovering a Larger God: How the Cross Prevails where Self-salvation Fails. 
I write for the glory of God and for the encouragement of fellow pilgrims on Christ's narrow way. I write in answer to King David's urging, "Let the redeemed of the Lord say so," and his confessional zeal, "I will declare what He has done for my soul" (Ps. 107:5 and 66:16).
Redeemed indeed, I want to help others walk the same path, Eddy followers reborn as Jesus followers, a growing cloud of witnesses.
Discovering a Larger God is organized into nine chapters around questions often asked among former Christian Scientists or among current Scientists who are struggling with what to believe. Those questions are:
1. What is man that Thou art mindful of him?
2. What shall I do with Jesus who is called Christ?
3. What if the Bible is its own key?
4. A glorious church, holy and perfect??
5. Why take her word for it?
6. Are you really seeking truth?
7. Could we try talking it over?
8. What better place to take my stand?
9. How can I ever thank Him enough?
I was honored when famed apologist Lee Strobel said the book is written "with the zeal of a convert, the urgency of a man on a mission."
And I'd be even more honored if you decide to read this book yourself or to buy it as a gift for someone. Of course I'd enjoy corresponding with you about it via [email protected] or 720.489.7700.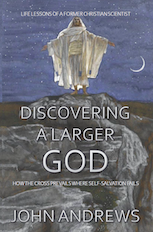 The author can be reached at andrewsjk@aol.com