Remembering Carl Gans
The many friends of Carl Gans, co-founder of the Ananias Circle, mourn his sudden passing last week and extend our loving support to his family. My affection for Carl, and my gratitude to him as an elder brother in Christ, are beyond words.
We became very close after meeting in 1998 and realizing how similar had been our paths from Christian Science to the Cross of Christ. This website grew out of Carl's suggestion that we collaborate on an open letter to answer the repeated question from Christian Scientists, "What happened to you?" The result was the Ananias welcome letter here on our home page.
In describing Carl as "an intensely religious man" an obituary paid him rightful honor but missed the transformative experience of his life – a co-worker's challenge to look more deeply into the Gospel of John, leading Carl to realize that God cannot be known through any religion or science, but only through a relationship with the person of Jesus Christ.
I am confident there was great rejoicing in heaven, mighty cheers and manly embraces from the saints and angels for this gentle and fearless soldier of Jesus, when Carl strode smiling into the blaze of eternal light on that summer Tuesday evening. "Well done, good and faithful servant – well done!"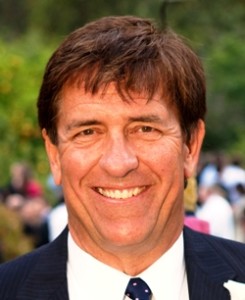 Here is the obituary published in his home community of Santa Barbara:
William Carl Gans, Jr.
July 7, 1949 – August 2, 2011
W. Carl Gans, a prominent Santa Barbara attorney and mediator, died unexpectedly on Tuesday, August 2nd, 2011, at his home in Rancho Embarcadero, north of Goleta.
Carl was born in Wenatchee, Washington, the eldest child of Bill and Bucky Gans – he an engineer and former naval officer from Pennsylvania, and she the youngest child of the Buckner homesteading family of Stehekin, Washington. When Carl was six, Bill took a job with a mining company that saw the family move first to Mexico, and later Brazil, where Carl and his two siblings (Judy and Phil) spent many of their formative years. After attending the Principia Upper School in St. Louis, Missouri, Carl earned a track scholarship to the University of Missouri.
At a church youth conference in 1969, 20-year-old Carl met a pretty young coed from southern California, Deborah "Debi" Wells, and the two wrote to each other during her extended trip through Europe. On her way home, Debi visited Carl, and on their seventh day of dating, after careful consideration, Carl proposed marriage and Debi accepted.
After transferring to UC Santa Barbara in 1970, Carl and Debi made their home in the Santa Barbara area and never left. Over the next 41 years, the couple raised four children, saw the births of two grandchildren, and ran a large and joyous household together.
Carl earned his BS and MS degrees in Mechanical Engineering and began his career at Delco Electronics in Goleta, where he worked for 20 years. As he reached his mid-30s, however, he discovered he had a gift for helping people resolve their differences. True to form, despite the demands of working full-time and raising four rambunctious children with Debi, Carl decided to earn his law degree. He attended night classes at the Santa Barbara College of Law, earned his JD and admission to the Bar in 1989, and never looked back.
For the next 22 years of his life, Carl developed a family law and mediation-focused practice in Santa Barbara in close quarters with his great friends "Chip" Oxton and Georgia Staab, and their loving and loyal staff. For the rest of his life, his professional relationships with his partners, staff, colleagues, and clients would inspire profound happiness in Carl, and a wonderful sense of accomplishment, prompting frequent declarations that he would never completely retire.
An intensely religious man, Carl was an elder at El Montecito Presbyterian Church, where he taught classes in biblically-based conflict resolution. He was also an active member of Peacemaker Ministries and developed a portion of his legal practice around Christian Conciliation.
With close friends and family always near, Carl spent the last years of his life in a glow of personal and professional contentment: working, traveling the world, playing golf, gardening, tending to his chickens, and attending church. On Tuesday, Carl spent his final moments holding the hand of the woman he loved Рhis adoring wife Debi. A loving husband, father, grandfather, son, and brother, Carl is survived by Debi and their four children (and spouses), Lisl (Rhodri), Heidi (fianc̩ John), Will (Rebecca) and Eric (Kristin); two grandchildren (Rhiannon and Tryfan); his mother Bucky; his sister Judy and brother Phil; and an enormous community of extended family, dear friends, and respected colleagues and clients. He will be sorely missed.
A memorial celebration of Carl's life will be held Wednesday, August 10th, at 2pm at First Presbyterian Church of Santa Barbara, located at 21 E. Constance Avenue. In lieu of flowers, donations would be appreciated to Peacemaker Ministries (www.peacemaker.net), the Buckner Homestead Heritage Foundation (www.bucknerhomestead.org), and Girls, Inc. of Greater Santa Barbara (www.girlsincsb.org), where Carl was a board member for 20 years.
The author can be reached at andrewsjk@aol.com